September 4 2011
1
04
/

09
/

September
/

2011
11:39
Well, Us Tarts were never gonna be shrinking violets - especially when we have mountains of Tart love to spread all over the World, so our Tart take-over continued when we were interviewed by Allison Hammond and Matt Johnson for This Morning.
So Thursday morning we left the Fish in charge of the Land thats Golden, set the SKY Plus and headed down to Buddha Beach to get on the telly !!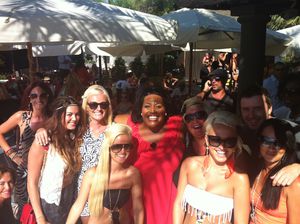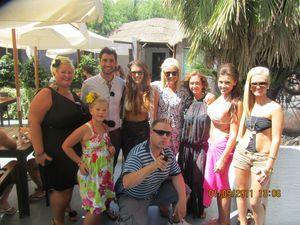 We found out that the ITV gang were here in Marbs at the gorgeous Buddha Beach to present the final of their summer long competition "Hunks in Trunks" and we wanted IN ! - Unfortunately they didn't take us up on our offer to oil and preen the Hunks but they did ask us along for an interview instead about Golden Tarts and we happily obliged.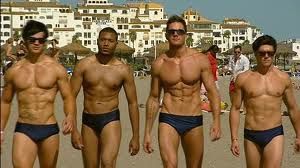 We quickly made friends with one of the Hunks - Mr. Great Yarmouth aka Lifeguard Liam Fayle-Parr (Far right in Pic) and he became our firm favourite! Sadly, he lost out to Mr. Bournemouth in the final but did come a close second (he was robbed!!)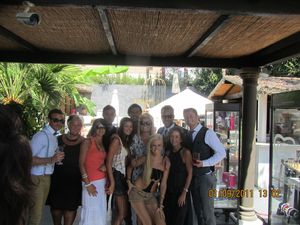 The Tarts and the Overtones
Matt decided Cherry was his favourite Tart (although he didn't dare say that in front of us all!) and Imogen Thomas loved her outfit, Allison joined the Tart family as Juicy Tart and became Welsh Tarts new best friend , we managed to nearly trip Harry up in his "No Carbs before Marbs" T-shirt by stepping on the back of his Flip Flop and Vintage Tart spilled her cocktail over one of the very smartly dressed lads from the Overtones!
We let our favourite man along for the ride too! Beat Boy aka Filla Tart aka Big G came along for a piece of the action and bagged some voice recordings and pics.. Heres our fave!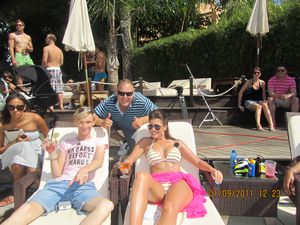 More blogginess from the Land Thats Golden very soon - lots more to share! ;D X